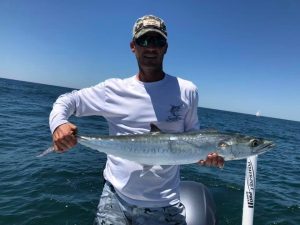 Capt. Perrin Wood of Southern Saltwater shows off a king mackerel in the 15-pound class caught earlier this week out of Murrells Inlet.  Courtesy photo.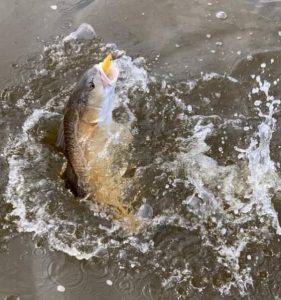 Photo credit Richard Fields
A red drum, or spottail, is brought to the boat Tuesday during a fishing trip in Winyah Bay with Gul-R-Boy Guide Service.
By Gregg Holshouser
Estuary
Look For: Flounder, red drum, black drum, spotted seatrout, sheepshead, bluefish.
Comments: Capt. Mike McDonald of Gul-R-Boy Guide Service had a hot start in the early morning on a Tuesday trip in Winyah Bay, before a storm front moved through the area. Before 9 a.m., the crew, including local angler Richard Fields, had landed three over-slot red drum in the eight-pound range, four spotted seatrout in the 18-19 inch range and three black drum, including two keepers. Then the front moved through, with the storms passing north of the bay. "When that little front passed through it shut everything down," said McDonald. The red drum hit topwater lures, the trout took hard jerk baits and the black drum took cut shrimp. McDonald noted water temperatures of 73 in the bay, 71 at the jetties and 75 at North Inlet. Capt. Chris Ossman of Fine Catch Charters in Little River has mainly focused on red drum, black drum and flounder this week. Ossman says the reds have been eating shrimp and crabs, which he says causes a blue hint in their tails. "The tails on the reds  have been really blue," said Ossman. Ossman has found finger mullet in the back creeks and has caught flounder with them in the creeks and drains off the Intracoastal Waterway. Look for black drum also in the ICW around structure, hitting fresh shrimp. Ossman says trout action has slowed, but they will hit live shrimp if available. After a windy start to the week, Capt. Perrin Wood of Southern Saltwater and Capt. Dan Connolly of O-Fish-Al Expeditions found murky water in Murrells Inlet on Tuesday. "The water's still real dirty inside the inlet between the rain and wind the last couple days," said Wood. "When it's dirty for me, I'm putting something with some smell on the bottom. There are black drum, flounder and reds around for sure. It's not a real consistent bite right now." Flounder fishing has been productive at times in in the inlet. On Sunday, Connolly caught two flounder measuring 19 and 16 inches, plus lost a larger one, while floating mud minnows.
Inshore
Look For: Spanish mackerel, king mackerel, bluefish, cobia, spadefish, weakfish, black sea bass, sheepshead, black drum, whiting, croaker, flounder.
Comments: Wood and Connolly headed out Monday in search of king mackerel, starting off at Belky Bear located about 12 miles east of Murrells Inlet. "There was nothing at the Bear, so we moved on out," said Wood. "In 55-60 feet of water, the screen was lit up with bait and fish moving through there." The duo was slow-trolling dead cigar minnows on a variety of sizes of jig heads to cover most of the water column. The 1.5-ounce jig head produced two fish, a 15-pound king and a 12-pound king. "They were probably 15 feet down," said Wood, who noted a water temperature of 68 degrees. "The water looked green but clean." Wood has also been in search of cobia, which should be showing up very soon, if they aren't already on the scene. "No cobia yet, but we saw plenty of turtles," said Wood. "They gotta be here. If we can ever get a flat day we're going to go chum 'em up." Ossman also went cobia hunting out of Little River in 50 feet of water, and was also on the look out for spadefish. No cobia were spotted or caught, but what he did find was red snapper. "I had one bite that may have been a cobia on a pogey (menhaden)," said Ossman. Spanish mackerel have been caught from the surf zone to the near-shore artificial reefs and in between over the last week. Ossman has also had success with weakfish and large flounder on the near-shore reefs, including a 25-inch flounder last Saturday. The doormat hit a 3/8-ounce jig head with a white/chartreuse Gulp shrimp. Spanish mackerel, bluefish and whiting are providing the best action on Grand Strand piers. Lynn Galloway of Apache Pier reports Spanish, whiting and blues have been the main catch. Kathy Spivey of The Pier at Garden City reports Spanish and large blues along a few whiting, flounder, black drum and pompano have been caught this week. Wick Fisher of Cherry Grove Pier notes good catches of Spanish plus whiting and flounder have been caught. Anglers are targeting king mackerel on Apache and Cherry Grove piers but none have been caught, yet. The ocean water temperature is 71.
Offshore
Look For: Dolphin, blackfin tuna, yellowfin tuna, wahoo, king mackerel, bonito, grouper, red snapper, amberjack, vermilion snapper, triggerfish, red porgy, black sea bass.
Comments: Spring offshore trolling is peaking in the vicinity of areas such as the McMarlen Ledge, Winyah Scarp and Georgetown Hole, with excellent numbers of dolphin and a surprising number of yellowfin tuna highlighting the catch. There are also plenty of wahoo and blackfin tuna around, plus blue marlin are starting to make the scene. The time is now to head offshore for some of the best trolling action available during the year. Shallow-water grouper season opened on May 1, and Ronald "Catfish" Stalvey of Stalvey's Bait and Tackle headed out on May 2. Stalvey and crew definitely found a hot spot, catching a limit of grouper (three per person per day) in about an hour. The trio of anglers dropped dead cigar minnows in 90 feet of water about 40 miles offshore to catch scamp and gag grouper. The bottom-fishing excursion also produced grey triggerfish, vermilion snapper, black sea bass and white grunts. They also caught a few red snapper but the species must be released in the South Atlantic Region.
Freshwater
Look For: Bream, catfish, bass, crappie.
Comments: Fishing activity is hot and heavy on local rivers. "The bream fishing is absolutely amazing," said Stalvey. "I sold 100,000 crickets on Saturday alone. The bream are in pockets off the main river and right on the main river. The best fish are on the Waccamaw, the ICW and the big Pee Dee." Stalvey notes bream are in 1-4 feet of water, nailing crickets, along with worms. Catfish action continues to be excellent on cut eel and live shiners. Young angler Will Hardy won a weekly bass tournament out of Conway Marina on Tuesday, landing a 4-pound bass on his third cast of the evening. Hardy finished ahead of 37 other anglers to win $760 in the tournament. Bass action has improved over the past week. "The topwater bite is heating up and it's only going to get better and better," said Stalvey.