Outdoor Furniture Staff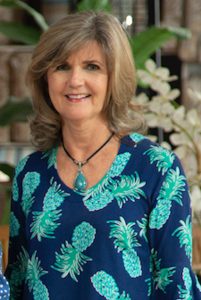 Sarah Marie "Sam" Cox
The daughter of founders Carrol and Jane Holshouser, "Sam" is Chief Executive Officer of Custom Outdoor Furniture & Restrapping,
With a BS in Marketing from the University of South Carolina, she started her career in Advertising Sales with Peterson Outdoor Advertising and WWAY-TV, then as Marketing Director of Inlet Square Mall at their Grand Opening in 1990.
"Sam" joined the family business, then called Furniture Restrapping, in 1994, and handles all of the financial business, purchasing from vendors and preparing estimates for customers. She also follows through with contract / commercial sales until the customer has received their order.
Her hobbies include singing in the Chancel Choir and playing in the Handbell Choir at Belin Memorial United Methodist Church, boating and working out.
FUN FACT: "Sam" dated the Governor of South Carolina when they were both in High School AND she once was "damn good" at pool.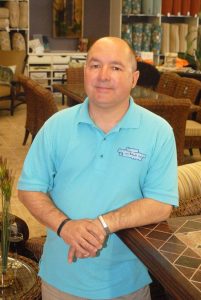 Gregg Holshouser
The son of founders Carrol and Jane Holshouser, Gregg is Chief Operating Officer of Custom Outdoor Furniture & Restrapping. He oversees the restrapping and re-slinging workshop. Gregg has been working with the business full-time since 1999.
Gregg is a 1984 graduate of the University of South Carolina with a BS degree in Journalism, with background as a sports writer for daily newspapers including the Northwest Florida Daily News in Ft. Walton Beach. He continues his journalistic roots as the Outdoors Writer for The Sun News – the daily newspaper in the Myrtle Beach area.
His hobbies include fishing, boating, travel, hiking, sightseeing and USC Gamecock athletics. He loves vacationing in the tropics.
FUN FACT: Gregg once met Dale Earnhardt Sr. in an elevator after his (Earnhardt's) victory in the Heinz Southern 500 at the Darlington Raceway in 1990. Gregg was covering the race for a local newspaper. It was only one floor, so they didn't get to talk much.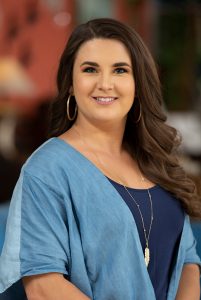 Olivia (Cox) Smith
The grand daughter of Jane & Carrol Holshouser, Olivia is a third-generation owner of Custom Outdoor Furniture & Restrapping and is proud to help her grandparents' legacy live on. As Chief Marketing, Human Resources & Administration Officer, Olivia wears many hats at Custom Outdoor Furniture. After graduating cum laude from The University of South Carolina with a BS in hospitality management, she worked as an event coordinator for a few years before joining the family business full-time.
Born and raised in Murrells Inlet, Olivia is a true "creek rat" who enjoys boating and fishing with her husband, Dennis, and their Chesapeake Bay Retriever, Hank (who is 110 pounds of love). In her spare time, she loves gardening, baking, painting, crafting and decorating her home.
FUN FACT: As a child, Olivia sold home grown tomatoes on the front steps of Custom Outdoor Furniture, with a cashbox & by weight as Daddy Carrol taught her. She in fact, does not like tomatoes even after all these years.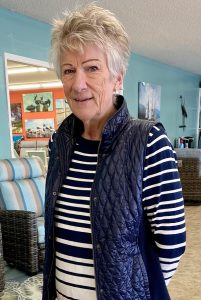 Happy Land
Happy has been with Custom Outdoor Furniture and Restrapping since 2012. Happy has a combined 40+ years of experience in retail sales, independent sales and manufacturing in the casual furniture industry. She has held positions on the Board of Directors of the International Casual Furnishings Association (ICFA) and past Board of Directors member of the Summer & Casual Furniture Manufacturers Association (SCFMA). Happy loves to cook and spend time with her grandchildren who live in Seattle.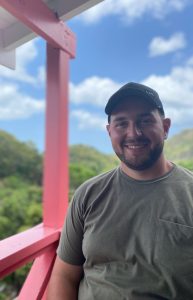 Alex Uhas
Ohio native, Alex, moved to the area in 2019, after graduating from the University of Mount Union in Alliance, Ohio. Alex joined us at the store and is now a key piece of our puzzle. Alex played center for Mount Union and celebrated two championships with his team during his years at UMU. 
As our logistics manager, Alex manages all receiving and out-going products. When he's not working, he loves to cook and go on beach walks — usually accompanied by his wife, Hannah, and their dogs, Nova and Pirelli. Alex and Hannah also have a cat, Carroll Shelby, who they rescued after they fostered him. 
FUN FACT: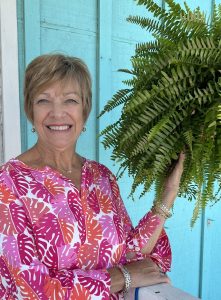 Cindy McLaughlin
Cindy has worked for the family at Custom Outdoor Furniture since 2015, having come and gone, but eventually making her way back to stay in 2021. (Besides, she didn't want to miss the BIG COF wedding!) She is married to Dave, who also once worked for COF.
FUN FACT: A former all-star baton twirler, Cindy once marched in the All-American Soap Box Derby in 1960 alongside Ben Cartwright, Michael Landon, and other famous actors from the popular tv series, Bonaza. By high school, Cindy was the center on the freshman football team at Archbishop Hoban High School, an all-boys Catholic school.  Also in high school, at St. Mary's Catholic High School, she held a record for the Granny's style foul shots, making 43 shots in a row.  The record will never be broken as the school eventually merged with St. Vincent co-ed catholic school, and became St. Vincent-St. Mary's, made famous by Lebron James, the NBA's most prolific player. One could say that Cindy still holds a record over Lebron James.