Boat ramps closed, but fishing continues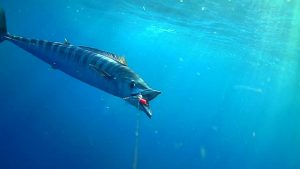 Estuary
Look For: Spotted seatrout, red drum, flounder, black drum, sheepshead, bluefish.
Comments: Boat ramps are closed to use by the general public but private boats and guides are still out on the water as the spring fishing activity ramps up. Capt. Mike McDonald of Gul-R-Boy Guide Service in Georgetown headed to North Inlet on Sunday targeted spotted seatrout, throwing a variety of soft plastic grubs. McDonald and crew caught seven trout including six keepers at or above the 14-inch minimum size. Five of the trout were in the 17-23 inch range. "(We used) Bass Assassin, Matrix, Z-Man, different colors," said McDonald. "We didn't' catch them on any one  thing. We just caught one here, one there." The crew also released one flounder. McDonald noted a water temperature of 68 degrees in North Inlet and Winyah Bay. Capt. Patrick Kelly of Captain Smiley Fishing Charters used live shrimp to target trout in the Little River vicinity on Saturday. The angling highlight of the trip, however, was a 35-inch bull red drum caught in the ICW, but trout provided the bulk of the action. "We slayed the trout drifting live shrimp," said Kelly. "Trout fishing has been the main focus and it's been dynamite with live shrimp." Kelly noted Vudu, Gulp and DOA artificial shrimp will produce trout, but not as well as the real thing.
Capt. Chris Ossman of Fine Catch Charters, also in Little River, was in the midst of a nice trout outing Wednesday afternoon floating, of course, live shrimp. "We've had good action with live shrimp floating them down shell banks," said Ossman, who also caught red drum on fresh cut shrimp on docks in the ICW.
Trout can also be found at the Little River jetties. "There's reds and trout, big trout out there (at the jetties)," said Kelly. Capt. Dan Connolly of O-Fish-Al Expeditions in Murrells Inlet also has had success with trout and red drum in Murrells Inlet also on live shrimp. But with the water temperature nearing 70, a new species is on the scene in the inlet. Bluefish are becoming common, nailing precious live shrimp meant for trout. Flounder catches are picking up in the estuaries, especially in Murrells Inlet and points south.
Inshore
Look For: Bluefish, Spanish mackerel, little tunny, weakfish, black sea bass, sheepshead, black drum, whiting, croaker, flounder.
Comments: Action has turned hot on the near-shore artificial reefs, especially on the south end of the Grand Strand out of Murrells Inlet and Georgetown. Four species are providing the bulk of the action – bluefish, Spanish mackerel, weakfish and a species of bonito. Bluefish are being found in great numbers, while Spanish mackerel, including some large fish in the 3-5 pound range, have just started showing up. Weakfish are active, holding to the structure. The bonito – likely little tunny also called false albacore – have been found in schools passing through the vicinity of the reefs. Most fish are being caught on jigfish, casting spoons and plugs. Trolling mackerel trees  tipped by spoons will also produce Spanish and blues. Action is also picking up, right along with the water temperature, in the surf zone. Manager Steve Gann of Cherry Grove Pier reports anglers have mainly been catching bluefish, Spanish mackerel and whiting. "On Monday we had our first good run on blues and Tuesday we had more blues on high tide and the first Spanish (mackerel) of the season," said Gann. "The whiting are picking up and getting bigger." Gotcha plugs and mackerel trees have been producing the blues and Spanish. Gann noted an ocean water temperature of 64 degrees at 3 p.m. Thursday.
Offshore
Look For: Wahoo, blackfin tuna, dolphin, king mackerel, bonito, grouper, red snapper, amberjack, vermilion snapper, triggerfish, red porgy, black sea bass.
Comments: Owner Wally Lee, Capt. Danny Carey and crew aboard Wasted Time headed to the Winyah Scarp vicinity Monday as the wind laid down long enough for boats to get offshore. "We finally found some (good) water and we found some fish," said Carey. The action was  hot to start as six wahoo were in the box by 9 a.m. after two hours of fishing. Ballyhoo with skirts, Green Machine, DTX Minnow and cedar plugs were among the natural and artificial baits in the trolling spread. Carey was surprised how well the DTX Minnow produced. "We caught three wahoo on it and the last one destroyed it," said Carey with a laugh. A switch to high-speed trolling wasn't as productive, with one more wahoo caught. In all seven wahoo were landed including six in the 40-50 pound range. A king mackerel was added to the box and several Atlantic bonito were also caught. Bottom fishing is producing numerous species including black sea bass, vermilion snapper, grey triggerfish, red porgy, white grunts, amberjack, grouper and red snapper. Red snapper must be released indefinitely in the South Atlantic region and the annual shallow-water grouper spawning season closure continues through the month of April, including gag grouper, black grouper, red grouper, scamp, red hind, rock hind, yellowmouth grouper, yellowfin grouper, graysby, and coney.
Freshwater
Look For: Bream, catfish, bass, crappie.
Comments: Angler action is much slower than normal on the rivers with public boat ramps in the state closed, but fishing is fantastic as the weather and water heats up. Action has been superb for catfish in the last few weeks, with fresh cut eel and shad serving as top baits. Bream are moving up on the banks in spawning mode, and are hitting crickets and worms in 2-6 feet of water. Bass are also getting into spawning mode and are hitting Texas-style rigged worms and craw baits.