Fishing Report 3-13-2020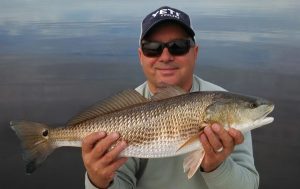 By Gregg Holshouser
Estuary
Look For: Red drum, black drum, spotted seatrout, flounder, sheepshead.
Comments: It was on a falling tide in the afternoon, but the water temperature hit the 60 degree mark in Murrells Inlet this week, a sure sign spring is here, or at least very close. Capt. Dan Connolly of O-Fish-Al Expeditions observed that reading on Wednesday, on the tail end of a very successful trip. Connolly's crew caught "at least 30" red drum, most in the middle of the 15-23 inch slot limit and a few over, plus several spotted sea trout on floated live shrimp. "For a while we were catching one on every drift when the reds got fired up," said Connolly. Black drum close to the lower end of the 14-27 inch slot were active, hitting dead shrimp on a Carolina rig. Connolly noted snot grass, algae that grows on the bottom in the winter months, is still prevalent in the inlet, but said "it's starting to die off and is floating out." Capt. Patrick Kelly of Captain Smiley Fishing Charters in Little River has had success with red drum and trout, also using floated live shrimp along with Vudu and DOA shrimp. Kelly notes an increase in flounder catches.
Inshore
Look For: Black drum, black sea bass, sheepshead, whiting, croaker, flounder.
Comments: The near-shore reefs remain the place to be within 10 miles of the beach, with sheepshead and black drum, along with black sea bass, currently the main catch. There has been a major uptick in the number of black drum landed on the reefs, and a decline in the number of sheepshead. The ocean water temperature also hit the 60-degree mark Thursday afternoon, with a surface reading of 60 degrees at Cherry Grove Pier and 55 on the bottom. The fish are still in wintertime mode, though, with only a few puffers and small whiting, plus a few small black sea bass caught. But with the water temperature threatening to pass the 60-degree mark, as Michael Wallace of the Cherry Grove Pier said, "it won't be long now."
Offshore
Look For: Wahoo, blackfin tuna, grouper, red snapper, amberjack, vermilion snapper, triggerfish, red porgy, black sea bass.
Comments: Jeff Martini of Mid-Town Bistro in North Myrtle Beach and crew aboard Dirty Martini headed well offshore to target snowy grouper on Monday, with plenty of success. Martini produced several nice snowys on the trip, fishing in 700 feet of water. The crew stopped to bottom fish at the 100-foot mark and landed black sea bass, vermilion snapper, triggerfish and red snapper. Red snapper must be released indefinitely in the South Atlantic region. Martini noted the water was on the dirty side and was cooler than expected. Martini reports wahoo have been caught in 200 feet of water near the McMarlen Ledge in water temperatures of 69-70 degrees. "The water was not very blue, it was kind of dirty," said Martini. The annual shallow-water grouper spawning season closure continues through the month of April and includes gag grouper, black grouper, red grouper, scamp, red hind, rock hind, yellowmouth grouper, yellowfin grouper, graysby, and coney.
Freshwater
Look For: Bream, crappie, catfish, bass.
Comments: The rivers remain high, just at Minor Flood Stage or below, and spring is upon us. With a drop in river levels, super spring fishing should be at hand. "We've got to get rid of all this water before anybody's going to get out and go fishing," said Ronald "Catfish" Stalvey of Stalvey's Bait and Tackle. "With these warmer temperatures, all these fish are pulling up and getting ready to spawn. The fish are deep to shallow and all in between." For now, bream are hitting red worms and nightcrawlers, but cricket season is close at hand. Crappie continue to hit minnows while catfish are taking shad and cut eel. With the bass spawn coming up, Stalvey recommends using Texas-style rigged worms. "Bass are hitting anything that mimics a crawfish right now," said Stalvey.