Fishing Report 3-20-20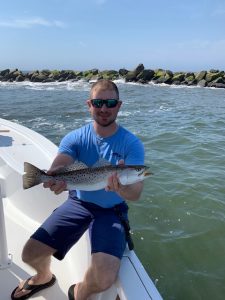 By Gregg Holshouser
Spring, bluefish arrive right on cue
Estuary
Look For: Red drum, black drum, spotted seatrout, flounder, sheepshead, bluefish, pompano.
Comments: The country may be in turmoil from the presence of the Coronavirus, but the fish are not aware of the circumstances. Capt. Chris Ossman of Fine Catch Fishing Charters hit the jetties and the creeks in Little River Thursday, armed with elusive live shrimp, and found spotted seatrout in both areas. Ossman also caught trout on DOA artificial shrimp. Earlier in the week, Ossman fished the creeks and the ICW in the Little River area with success. "It wasn't spectacular but there are definitely black drum, redfish and trout (available)," said Ossman. "There are a lot of black drum and reds on docks and structure like that. Trout are in the deeper holes at low tide and on deeper drop-offs near shell banks. Reds are in shallow holes in the far back creeks, plus trout. If you can get live shrimp that gives you the upper hand." Capt. Dan Connolly of O-Fish-Al Expeditions in Murrells Inlet headed out on a foggy, chilly Wednesday morning and had success with redfish but only on the falling tide using shrimp. "It was all on the falling tide, we didn't catch a single fish after the tide got low," said Connolly, who noted the reds ranged in size from 15 to 27 inches. Connolly also noted a water temperature 57-58 degrees. "The bite is pretty spotty if the water temperature isn't over 60." Local angler Woody Hewett was working a Vudu shrimp in Pawleys Island Wednesday evening and wound up with one heck of a bite on lightweight tackle. Hewett eventually subdued a huge 16-pound bluefish, an early arrival for sure. Also, Capt. Jason Burton of Murrells Inlet Fishing Charters reported a nice catch of trout Wednesday, along with a large pompano – another early arrival. An angler fishing with Capt. Nick Wofford of MIFC and aboard Carolina Girl caught the pompano on the north side of the inlet in the creeks. The pompano weighed three pounds.
Inshore
Look For: Bluefish, black drum, black sea bass, sheepshead, whiting, croaker, flounder.
Comments: The arrival of spring on Thursday coincided with the arrival of bluefish in local near-shore waters, marking the first pelagics to make the scene. Spanish mackerel can't be too far behind followed a little later by king mackerel. Capt. Jeff Maples of Reel Salty Fishing Charters hit a couple of near-shore reefs on Thursday and observed a water temperature of 58 degrees. Maples' crew caught bluefish, black drum, sheepshead and large spottail pinfish, known locally as ringtails. Michael Wallace of Cherry Grove Pier reports good numbers of puffers plus whiting and croaker have been caught this week. Norma Madaras of Apache Pier reports whiting, black drum and small flounder landed this week. Look for the bluefish to show up from the piers this weekend. The ocean water temperature was 60 degrees Wednesday evening and 59 Thursday morning at the Cherry Grove Pier.
Offshore
Look For: Wahoo, blackfin tuna, grouper, red snapper, amberjack, vermilion snapper, triggerfish, red porgy, black sea bass.
Comments: Capt. Danny Carey of Careyon Charters headed offshore on Tuesday for a Gulf Stream trip aboard his 30-foot Sea Hunt and focused trolling the area between the Winyah Scarp and the Georgetown Hole. Blackfin tuna were on hand, and Carey's crew landed eight including two fish at 30 pounds and two in the mid 20s. "There's some really nice blackfin out there right now," said Carey. The tuna hit cedar plugs and Green Machine lures. They also landed an amberjack in the 60-pound range that measured 45 inches along with numerous bonito. The crew had a moment of excitement when a sailfish hit a bait and was on for a few seconds. Carey noted a water temperature of 74 degrees. "The water was mixed, we didn't see that nice blue water," said Carey. Carey noted a few dolphin have been landed in the southern offshore waters of the state, but it's too early for them to arrive en masse. Capt. Jay Sconyers of Aces Up Fishing hit an area in only 50 feet of water early in the week and found plenty of species in residence. Sconyers and crew released 11 red snapper and caught a scamp grouper along with black sea bass and white grunts on a short trip. Further out, look for black sea bass, vermilion snapper, triggerfish, porgy, grunts, amberjack, grouper and red snapper. Red snapper must be released indefinitely in the South Atlantic region. The annual shallow-water grouper spawning season closure continues through the month of April and includes gag grouper, black grouper, red grouper, scamp, red hind, rock hind, yellowmouth grouper, yellowfin grouper, graysby, and coney.
Freshwater
Look For: Bream, crappie, catfish, bass.
Comments: The Waccamaw and Little Pee Dee rivers are finally out of flood stage and slowly trending down. Combine the improved water levels and spring officially arriving on Thursday, and what better way to escape the Coronavirus fiasco than a fishing trip on the local rivers. Ronald "Catfish" Stalvey of Stalvey's Bait and Tackle in Conway reports few anglers have been out, but he has seen some good catches of crappie this week. Springtime is prime time for bream fishing on worms or crickets. "All fish are pulling up and getting ready to spawn out," said Stalvey. "Bream have to be biting good right now, they've got to be stacked up. In 2-8 feet of water is what I would focus on. That would be the best range right now." Stalvey reports very good bass action right now on the Waccamaw and ICW, Pee Dee and Ricefields vicinity. "I'd use a crawfish imitation, something that is going to attack their bed, that's what they're going to hit right now," said Stalvey. Catfish action is also very good. "Catfishing is phenomenal right now on eels and shad, too," said Stalvey.