Fishing Report 3-7-2020
Changes could be coming to red snapper mini-season in South Atlantic region
MARCH 07, 2020 01:48 PM
Whether there is a recreational mini-season for red snapper in the South Atlantic Region during 2020 is up in the air. There is no doubt, however, if there is a mini-season it will be shorter than in recent years.
NOAA Fisheries announced a three-day mini-season for red snapper is on the table, down from a five-day season in 2019 and a six-day season in 2017 and 2018. The announcement was made during a presentation to the South Atlantic Fishery Management Council's Snapper Grouper Committee Wednesday at a SAFMC meeting in Jekyll Island, Ga.
The mini-season has been cut back to three days due to an overage in the number of red snapper caught during the five-day 2019 mini-season. During those five days, preliminary landings of red snapper according to NOAA Fisheries numbered 49,674, well over the annual catch limit of 29,656 fish, resulting in the reduced number of days allowed for 2020.
There still could be no 2020 mini-season if a NOAA Fisheries regulation isn't overturned. Currently, a red snapper mini-season isn't allowed if the season is set at three days or less.
The SAFMC, in December, 2019, approved an amendment to modify that restriction to allow for a shorter red snapper mini-season. The amendment, Regulatory Amendment 33 to the Snapper Grouper Fishery Management Plan, has been submitted to NOAA Fisheries.
From there, the amendment will go through a 30-day public comment period and another review before a final decision is made in the form of a final rule. A press release stated that the SAFMC's "intent is to have the amendment in place prior to the 2020 season."
Recreational fishermen, including charter/head boat operators and weekend warriors, are invariably unhappy with the decision to shorten the season, and the potential for there to be no mini-season at all in 2020.
The view from the water is that red snapper are as numerous and widespread as most anglers have ever seen off the South Carolina coast, and are even becoming a nuisance by keeping anglers from being able to catch other species that are open to harvest.
"I can take you to a spot right now and we can catch 20 red snapper," said Capt. Jay Sconyers of Aces Up Fishing in Murrells Inlet. "I can't catch grouper because there's so many snapper — I've got to get out past the red snapper to catch grouper. I've got to get out to (depths of) 130 feet instead of 85 feet to catch grouper. I can still catch grouper in 85 feet but I've got to weed through 15 red snapper to catch a few."
Sconyers has even caught a red snapper on a spot as shallow as 44 feet.
"They're moving in and taking over," said Sconyers. "How many small grouper and black sea bass are the red snapper eating out there?"
Kim Iverson, Public Information Officer for the SAFMC, points out the council is pushing for there to be a 2020 mini-season by approving Regulatory Amendment 33.
"Council members are well aware of frustrations with the limited red snapper season and balancing what is seen on the water with legal mandates," said Iverson.
In the meantime, anglers are urged to use best fishing practices in releasing red snapper, particularly venting or the use of a descending device for fish suffering from barotrauma.
"As the stock continues to rebuild and fishermen encounter more red snapper year round, it is increasingly important they use best fishing practices to help minimize release mortality," said Iverson.
Anglers are also urged to report their catches by using the MyFishCount app and web portal. For more information, visit https://www.myfishcount.com.
The saga of rebuilding the stock of red snapper began in 2009, when the National Marine Fisheries Service determined the South Atlantic stock from North Carolina through the east coast of Florida was overfished and undergoing overfishing. The fishery was closed in 2010 with a 35-year rebuilding plan put in place.
Ever since, there have been sporadic mini-seasons, including consecutive seasons from 2017-2019, but largely the species has been closed to harvest for recreational anglers since 2010.
Iverson notes a new red snapper stock assessment is scheduled to begin in 2021.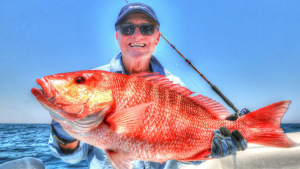 Photo credit: Dr. Jason Rosenberg