Fishing report 4-17-2020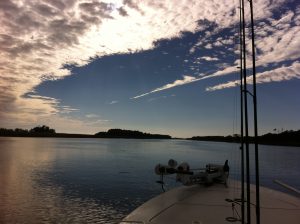 Photo credit: Gregg Holshouser
Superb spring fishing has arrived in the waterways of the Grand Strand.
By Gregg Holshouser
Estuary
Look For: Spotted seatrout, red drum, flounder, black drum, sheepshead, bluefish.
Comments: Capt. Mike McDonald of Gul-R-Boy Guide Service in Georgetown eased over to North Inlet for a trip on Tuesday, just 24 hours after a nasty line of storms including a few tornados had rolled through Georgetown County. "The water was nasty, it was hard to find clear water anywhere," said McDonald. Nevertheless, McDonald and crew caught 20 spotted seatrout and several bluefish using a variety of soft plastic grubs. "It was not a fast and furious bite, we worked hard for them," said McDonald. Capt. Patrick Kelly of Captain Smiley Fishing Charters reports spotted seatrout are also available in Little River, but having live shrimp helps your chances. "I had a dozen live shrimp on one trip and we caught four keepers and got bit on all 12 shrimp," said Kelly, who was floating the shrimp along oyster beds on an incoming tide. Kelly has also caught red drum in shallow creeks on live finger mullet. On Monday, Kelly went fun fishing in Cherry Grove Inlet and caught black drum on cut shrimp. "I'm not fishing as much as I wish I was but fishing's excellent," said Kelly. Capt. Dan Connolly of O-Fish-Al Expeditions in Murrells Inlet caught red drum and black drum at the jetties and in the creeks after the blow on Monday.
Inshore
Look For: Bluefish, Spanish mackerel, little tunny, weakfish, black sea bass, sheepshead, black drum, whiting, croaker, flounder.
Comments: It has been a stormy week, at least through Wednesday, with a tornado producing a 114-mph wind gust at the Murrells Inlet jetties Monday morning and a cold front moving through Wednesday. Action should be excellent for bluefish, Spanish mackerel and weakfish when conditions calm back down. Spanish and blues will hit trolled Christmas tree rigs and cast lures such as jigfish and Gotcha plugs when found in schools or around near-shore reefs. Weakfish are holding to the structure of the reefs and will also hit jigfish, along with most any cut or live bait. Before the blow, little tunny (or false albacore) had been caught in the near-shore waters. Action is about to take off in the surf zone. "A bunch of pods of bait are showing up along the beach," said Connolly. Steve Gann of Cherry Grove Pier reports fishing quickly turned good after Monday's line of storms moved through. "Whiting were abundant on Tuesday and we had seen blues and Spanish before the storms," said Gann. "On Tuesday the Spanish were back on high tide. And we've only had a handful (of anglers) fishing every day." Gann also notes a few undersize flounder and black drum have been caught. The ocean water temperature at the pier was 68 degrees Tuesday but had dropped to 65 at mid-afternoon Wednesday.
Offshore
Look For: Wahoo, blackfin tuna, dolphin, yellowfin tuna, king mackerel, bonito, grouper, red snapper, amberjack, vermilion snapper, triggerfish, red porgy, black sea bass.
Comments: Capt. Brant McMullan of Ocean Isle Fishing Center took a crew offshore on Sunday and fished, among other areas, The Steeples. McMullan was fishing aboard the OIFC Freeman and found a very good wahoo and blackfin tuna bite, landing a dozen blackfin and four wahoo plus released a sailfish. With the calendar reading mid-April, look for dolphin (mahi) to show up in good numbers in the next two weeks. "The water was getting blue and getting warm, which means the mahi are coming," said McMullan. "It's good out there." Conditions went downhill after Sunday, and still look to be pretty rough for the weekend. There have been a number of reports of yellowfin tuna caught from Wilmington to Charleston, including six aboard Callisto out of Georgetown Landing Marina Saturday. Bottom fishing is good, with a number of species available including black sea bass, vermilion snapper, grey triggerfish, red porgy, white grunts, amberjack, grouper and red snapper. Red snapper must be released indefinitely in the South Atlantic region. The end to the annual shallow-water grouper spawning season closure is in sight as it is over at midnight on April 30. As for now, gag grouper, black grouper, red grouper, scamp, red hind, rock hind, yellowmouth grouper, yellowfin grouper, graysby, and coney must be released for the rest of the month of April.
Freshwater
Look For: Bream, catfish, bass, crappie.
Comments: There have been limited numbers of anglers on local rivers with public boat ramps closed, reports Ronald "Catfish" Stalvey of Stalvey's Bait and Tackle in Conway. Stalvey has received excellent reports from some of the anglers who have access to the rivers. "I've seen good reports on catfish from the Little Pee Dee, big Pee Dee and the Waccamaw, all using fresh shad, live eels or large shiners," said Stalvey. "The bream I've seen are from the Little Pee Dee." Stalvey reports bream are hitting mainly crickets but also worms in "2-4 feet of water, and even shallower." Most fish are in spawning mode in mid-April. "Even the catfish are pulling up to spawn this time of year," said Stalvey. "All of them are shallow right now." For bass, Stalvey recommends throwing Texas-rigged worms, Senkos and craw baits.