Fishing report 4-24-2020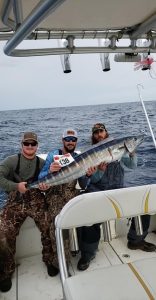 Photo courtesy Alex Hrycak
Colin Richardson, Joe Ziegler and Alex Hrycak show off a wahoo caught during the S.C. Wahoo Series aboard Salty Jenn II.
By Gregg Holshouser
Estuary
Look For: Spotted seatrout, red drum, flounder, black drum, sheepshead, bluefish.
Comments: Relentless wind and plenty of storms has kept the water churned up in local estuaries, which hasn't helped the fishing. Capt. Dan Connolly of O-Fish-Al Expeditions notes live shrimp haven't been available, which has also limited his catches of spotted seatrout. "I've caught a few on topwater and a few floating mud minnows," said Connolly. "You can tell the trout bite is starting to fizzle out as the (water) temperature continues rising." Connolly has had success with black drum on cut shrimp with a few overslot red drum in the creeks of Murrells Inlet. "There's nothing spectacular going  on," said Connolly, who noted a water temperature of 65 degrees in the inlet. "It's been pretty tough (fishing) since that big storm (on April 13). We're transitioning out of wintertime into spring-summer type fishing." Capt. Chris Ossman of Fine Catch Fishing Charters managed to find red drum, small black drum and small flounder in the Little River vicinity early in the week despite the water conditions. "The water's gotten dirty with all the wind," said Ossman. Last weekend, Ossman caught black drum and flounder in Cherry Grove Inlet on mud minnows. Ossman noted the bigger flounder came on a double Vudu shrimp rig with Pro Cure. Capt. Mike McDonald of Gul-R-Boy Guide Service found red drum, or spottails, on cut shrimp in Winyah Bay on Tuesday. McDonald noted a water temperature of 68 degrees.
Inshore
Look For: Bluefish, Spanish mackerel, little tunny, weakfish, black sea bass, sheepshead, black drum, whiting, croaker, flounder.
Comments: Starting with a deadly line of storms that moved through the Southeast on April 13, the wind has been virtually nonstop and that has put a real damper on near-shore fishing. The best action over the past week, when boats have been able to get out, has been on the near-shore reefs where bluefish and Spanish mackerel have been on the roam and flounder and large weakfish are holding near the structure. Capt.  Jeff Maples of Reel Salty Charters braved some sloppy seas on Tuesday to troll for Spanish in the vicinity of Paradise Reef (Three-Mile Reef), located three miles east of Murrells Inlet. "It was rough as hell," Maples said with a laugh. Rough, but productive as Maples and his crew landed 10 Spanish mackerel. "They were all 14-21 inches, and none were questionable that we had to measure," said Maples. "They weren't on fire but that wind was rough." Maples trolled mackerel trees on No. 2 planers to catch the Spanish. Ossman has seen pogeys (menhaden) in the surf zone, and knows that bodes well for cobia to start showing up soon. "I saw tons of blues busting on pogeys, they are definitely starting to move in," said Ossman. "In the next couple weeks I'm going to try a couple of my early season cobia spots. By the first week in May I should have a cobia in my boat." Steve Gann of Cherry Grove Pier reports some good action this week despite the choppy seas and murky water. "Lots of whiting, they've been loading up on them," said Gann. Three keeper black drum within the 14-27 inch slot have also been landed, along with a 2 ½-pound pompano. "The people that have been fishing have been pretty satisfied," said Gann, who noted a water temperature of 67 degrees Thursday morning.
Offshore
Look For: Wahoo, blackfin tuna, dolphin, yellowfin tuna, king mackerel, bonito, grouper, red snapper, amberjack, vermilion snapper, triggerfish, red porgy, black sea bass.
Comments: Capt. Alex Hrycak and crew aboard his 29 Sea Vee, Salty Jenn II, headed offshore early in the week for a trip in the S.C. Wahoo Series, and went seven for seven on wahoo strikes in the Winyah Scarp vicinity. Most of the wahoo were in the 40-pound range, with the largest weighing 41 pounds. Boats competing in the series, which continues through Saturday, are allowed three fishing days, weighing one fish per day, with the two heaviest wahoo counting toward a two-fish aggregate weight. Salty Jenn II is in sixth place with an aggregate of 110.6 pounds. Trolling has also produced blackfin tuna, and numbers of dolphin are increasing as the water temperature rises. When boats can get out, bottom fishing is very good, with catches including black sea bass, vermilion snapper, grey triggerfish, red porgy, white grunts, amberjack, grouper and red snapper. Red snapper must be released indefinitely in the South Atlantic region. The end is near for the annual shallow-water grouper spawning season closure, with one more week to go. The closure ends at midnight on April 30, and at that point anglers will be able to once again harvest a long list of grouper species including gag grouper, black grouper, red grouper, scamp, red hind, rock hind, yellowmouth grouper, yellowfin grouper, graysby, and coney.
Freshwater
Look For: Bream, catfish, bass, crappie.
Comments: The river levels are finally in super shape, the public boat ramps have been open since last Friday and spring fishing is peaking. Add it all up and it is prime time to do some social distancing by fishing on the Waccamaw, Intracoastal Waterway, Little Pee Dee, Great Pee Dee or Black rivers. "Fish are biting like crazy – they caught boatloads and boatloads this past week," said Ronald "Catfish" Stalvey of Stalvey's Bait and Tackle in Conway. Stalvey mentioned the Waccamaw, Great Pee Dee rivers and the Ricefields vicinity on the lower Waccamaw as prime areas for bream, catfish, bass and even crappie. Bream are hitting crickets and worms in 2-4 feet of water, specifically with shellcracker taking worms and bream, including bluegill, hitting crickets. Crappie are  hitting small shiners (crappie minnows) in lakes and creeks off the main rivers. Stalvey notes bass fishing is good, but he  hasn't seen too many lunkers. "I haven't seen any big, giant females," said Stalvey. "They might have spawned out already." Stalvey recommends throwing Texas-rigged worms, Senkos and craw baits for bass. Catfish are still being found shallow and deep, and some huge cats have been caught in the last week. Stalvey notes a pair of flathead catfish, one over 50 pounds and one over 60 pounds, were landed from the Little Pee Dee River on bush hooks in three feet of water.