Fishing Report 5-1-2020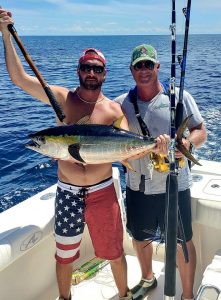 Chance Martini and Bobby Ray Hall Jr. show off a yellowfin tuna caught Tuesday near the Georgetown Hole.
Photo courtesy Jeff Martini
By Gregg Holshouser
Estuary
Look For: Flounder, black drum, spotted seatrout, red drum, sheepshead, bluefish.
Comments: Capt. Patrick Kelly of Captain Smiley Fishing Charters has found action has been best for flounder and black drum in the Little River area this week. Kelly has found a good flounder bite in Cherry Grove Inlet, where the number of boats searching for the flatfish has been high. "It's been consistent in Cherry Grove with a lot of short fish but a few keepers mixed in there," said Kelly. "There have been some good days on black drum on fresh cut shrimp. It's busy in Cherry Grove, it's combat fishing in there." Flounder have a 15-inch minimum size limit in South Carolina waters. Kelly notes that Tubbs Inlet between Sunset Beach, N.C., and Ocean Isle Beach, N.C., is typically a productive spot for flounder this time of year, but the species is currently closed to harvest in North Carolina. Capt. Steve Hedrick of Georgetown has found a good bite of nice whiting in Winyah Bay, hitting fresh cut shrimp. Area jetties are prone to hold a variety of species in early May including spotted seatrout, red drum, black drum, flounder and sheepshead, with Spanish mackerel and bluefish roaming the vicinity. The water temperature in local estuaries is in the upper 60s to around 70 degrees.
Inshore
Look For: King mackerel, Spanish mackerel, bluefish, weakfish, black sea bass, sheepshead, black drum, whiting, croaker, flounder.
Comments: Perfect seas were in the offing Tuesday morning, and Dr. Jason Rosenberg along with son Zachary and daughter Ruby headed out to the Belky Bear vicinity about 12 miles off Murrells Inlet aboard Painkiller to check on the status of king mackerel. The family trio found good action for kings while slow-trolling dead cigar minnows. "There was bait everywhere, we were trolling through schools of  bluefish," said Rosenberg. "We caught six kings in about an hour, and Ruby landed the two largest. All were released for the rest of the anglers to catch another day." Further inshore at Paradise Reef (Three-Mile Reef), Capt. Jeff Maples of Reel Salty Charters and his wife, Michele, went out for a quick Spanish trolling trip last Saturday and had a very productive outing. They wound up with 15 Spanish ranging from 16-22 inches while trolling mackerel trees on No. 1 or No. 2 planers. "We were only going to get enough for dinner but the bite was so good it was hard to stop," said Capt. Maples. Trolling or live-baiting for Spanish can be productive from the surf zone to several miles offshore, especially around jetties, tidelines, live-bottom areas or artificial reefs. Steve Gann of Cherry Grove Pier reports good action this week for whiting, Spanish mackerel, bluefish and black drum. "We've had a really good run on whiting, and they're starting to get a little bigger," said Gann, who noted a Thursday morning water temperature of 69 degrees. Gann notes black drum, including several solid keepers, and mostly undersized flounder have been caught this week.
Offshore
Look For: Wahoo, yellowfin tuna, blackfin tuna, dolphin, yellowfin tuna, king mackerel, bonito, grouper, red snapper, amberjack, vermilion snapper, triggerfish, red porgy, black sea bass.
Comments: The seas finally laid down Tuesday morning, and numerous boats were chomping at the bit to get in some offshore trolling. The trend of yellowfin tuna showing up continued as several boats caught multiple yellowfin. Jeff Martini and crew aboard Dirty Martini out of Little River went on a marathon trolling trip from the McMarlen Ledge to depths of 1,200 feet offshore and then to the Georgetown Hole. "It was a very long ride, we kept riding until we found the fish," said Martini. The tally for the day was three yellowfin tuna in the 15-20 pound range, three dolphin in the 10-15 pound range, three wahoo weighing between 40 and 66 pounds, one blackfin tuna and a king mackerel. They found the yellowfin near the Georgetown Hole. The crew was able to take the lead in the ongoing Far Out Shootout based out of Ocean Isle Fishing Center in Ocean Isle Beach, N.C., with their 15.45-pound dolphin, 20.70-pound yellowfin and 66.30-pound wahoo for a 102.45-pound aggregate. Capt. Alex Hrycak, Capt. Perrin Wood and crew aboard Salty Jenn II out of Marlin Quay Marina also found the yellowfin on Tuesday offshore of the Georgetown Hole. The crew wound up with five yellowfin, a wahoo, a dolphin, a blackfin and a skipjack. Dolphin fishing is peaking, as several boats caught double-figure numbers of the colorful sportfish. The shallow-water grouper spawning season closure ends as of May 1 and a number of grouper species can again be harvested. One issue is some reef anglers have found red snapper of all sizes are so prevalent, finding the grouper, or at least getting a bait to the grouper, can be a challenge. Regardless, action is good for numerous reef species including black sea bass, vermilion snapper, grey triggerfish, red porgy, white grunts, amberjack, grouper and red snapper, particularly in depths of 90-120 feet. Red snapper, of course, must be released indefinitely in the South Atlantic region.
Freshwater
Look For: Bream, bass, catfish, crappie.
Comments:  Ronald "Catfish" Stalvey of Stalvey's Bait and Tackle in Conway didn't mince words at midweek when describing the fishing action on local rivers this week. "Fishing's on fire," said Stalvey. In particular, spring action for bream is simply excellent in 2-4 feet of water. "Bream are hitting crickets and there are a lot of shellcracker on worms," said Stalvey. Bass action has slowed down a bit as the spawn tapers off. "Some are locked down, some of them are coming off the bed," said Stalvey. "Within the next few weeks things will have leveled off. They're coming off post-spawn and acting real funny right now." Stalvey suggests throwing trick worms, topwater buzz baits and Texas-style rigged craw baits and Senkos for bass. Catfish action continues to be good on a variety of baits including fresh cut eel along with large shiners.