Fishing Report 5-20-20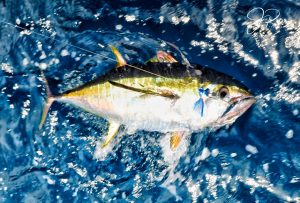 Photo courtesy Dr. Jason Rosenberg
A yellowfin tuna is brought to the boat alongside Painkiller Wednesday in the Winyah Scarp vicinity.
By Gregg Holshouser
Estuary
Look For: Flounder, red drum, black drum, spotted seatrout, sheepshead, bluefish.
Comments: Capt. Mike McDonald of Gul-R-Boy Guide Service in Georgetown went on a fun fishing trip on Thursday with a buddy, and caught a quick Carolina Slam. The duo caught two flounder, two red drum and one spotted seatrout. McDonald used a topwater lure to catch a 27-inch redfish and the trout while the flounder, in the 18-inch range, were caught on soft plastic grubs. The other red, an 18-incher, took cut shrimp. McDonald was fishing the Winyah Bay jetties, and noted a good sheepshead bite was on. On the heels of a chilly first half of the week, the water temperature was down to 67 degrees in the bay. Capt. Jason Burton, owner of Murrells Inlet Fishing Charters (MIFC), says the main species caught this week inside the inlet have been flounder and black drum. "Flounder have been better this week," said Burton. "It's mainly been flounder and black drum for us. It can't stay cold much longer." Burton noted red drum have been scarce this week in the inlet. Capt. Jeff Maples of Reel Salty Charters found pockets of clear, warmer water in the inlet on Tuesday, and thus found flounder. Maples and his crew caught 30 flounder including nine keepers.
Inshore
Look For: Spanish mackerel, king mackerel, bluefish, cobia, spadefish, weakfish, black sea bass, sheepshead, black drum, whiting, croaker, flounder.
Comments: King mackerel have made an excellent showing in the 10-15 mile range, with multiple boats having good catches on Wednesday and Thursday with limits of three-fish per person and a 24-inch minimum size limit. "The Spanish kind of disappeared and the kings showed up," said Burton. Maples found a good bite at Belky Bear on Thursday with the kings hitting slow-trolled dead cigar minnows. "Belky Bear was on fire," said Maples. Burton notes frozen cigar minnows have been difficult to find at times due to fallout from the Coronavirus, and captains in his fleet have at times resorted to alternative methods. "Some of our guys have been pulling drone spoons, and throwing Yozuri crystal minnows," said Burton. "I caught one on a Whopper Plopper, a topwater bass bait. That was pretty cool." Burton has observed menhaden and leatherback turtles near the beach in the last few days, which bodes well for near-shore action. "If I was a betting man I'd say a cobia will be caught on the beach any day now," said Burton. "Everything has kind of been off because of the cold mornings." Cannonball jellyfish have been seen in incredible numbers near the beach – not ideal for swimmers but a sure indication spadefish have shown up on near-shore artificial reefs. Burton notes weakfish are still being caught in good numbers on the near-shore reefs. Spanish mackerel have provided the best action on Grand Strand piers, along with whiting, flounder, pompano and bluefish. The ocean water temperature Thursday afternoon was 71-72 degrees according to data from the 2nd Ave., Apache and Cherry Grove piers.
Offshore
Look For: Dolphin, blackfin tuna, yellowfin tuna, wahoo, king mackerel, bonito, grouper, red snapper, amberjack, vermilion snapper, triggerfish, red porgy, black sea bass.
Comments: Wednesday was the day numerous boats have been waiting for with a rare tranquil wind forecast offering beautiful sea conditions. Trolling boats in the vicinity of the Winyah Scarp and Georgetown Hole took full advantage to land yellowfin tuna, blackfin tuna, dolphin, a few wahoo and a few billfish. Dr. Jason Rosenberg and Capt. Jay Sconyers of Aces Up Fishing had a day to remember aboard Rosenberg's Contender, Painkiller. The doctor and the captain took a crew out to the Winyah Scarp for a quick trip and zoomed back home to Murrells Inlet with seven yellowfin in the 30-pound class and one 18-pound dolphin in the box. The group left the dock at 10:30 a.m., were back by 4:30 p.m. and caught their fish while trolling ballyhoo. "We saw schools of small tuna and birds galore," said Rosenberg, who noted a water temperature of 69.8 degrees. "We didn't mark much on the depth finder." Capt. Jay Weaver of Blue Sky out of Georgetown reported an excellent trip on Wednesday, as his crew worked an area about 55 miles off of Georgetown. Weaver and crew typically target billfish and caught a white marlin, pulled the hook on a blue marlin and kept a dozen dolphin for table fare. "It's as good a fishing up and down the line as I've seen in years," said Weaver. Bottom fishing is producing catches of black sea bass, vermilion snapper, triggerfish, porgy, grunts, amberjack and grouper.
Freshwater
Look For: Bream, catfish, bass, crappie.
Comments: Fishing continues to be excellent on local rivers. "It's been absolutely phenomenal," said Ronald "Catfish" Stalvey of Stalvey's Bait and Tackle in Conway. "The big Pee Dee has shot up a little but it hasn't bothered the fishing." Stalvey mentioned the bream are in the swamps with the high water on the Pee Dee, but the fish can be found. "Every lake and cove off the main river are loaded with bass, bream and catfish," said Stalvey. The Intracoastal Waterway is producing fish, if you can get out there during the week. "The waterway is doing amazing from Socastee to Barefoot (Landing)," said Stalvey. "There's too much boat traffic on the weekend but during the weekdays you can fish on the side (of the waterway) and get you a nice limit of bream. The Waccamaw is amazing from Enterprise Landing to Red Bluff." Crickets are certainly the bait of choice for bream as summertime inches closer. "Crickets is the hot topic," said Stalvey. "Worms are good but crickets are the best, from 1-4 feet on a throw line." Beetle spins and popping bugs have also been working for bream. With the water warming up into the 70s, topwater action is on for bass. "They're hitting any type of topwater – buzz baits, Bang-O-Lure – and trick worms are also working. Catfish will hit a variety of baits including cut eel, live bream and black salty minnows.