Outdoor Report 3-28-2020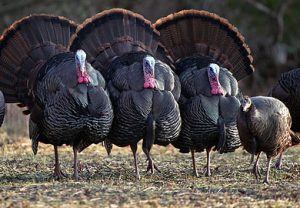 Early observations from South Carolina's turkey season show a healthy number of jakes, or juvenile males, along the coastal plain.
By Gregg Holshouser
Amid the uproar of the coronavirus fiasco, a safe alternative came into play for South Carolina's outdoorsmen on Sunday when the spring turkey season opened in Game Zones 3 and 4 in the midlands and along the coastal plain.
"Turkey hunting would lend well to social distancing," said Charles Ruth, Big Game Program Coordinator and turkey guru for the South Carolina Department of Natural Resources.
Capt. Buddy Smith is an avid turkey hunter when he's not near the Gulf Stream chasing wahoo, dolphin, tuna and billfish in the spring. Offshore trolling hasn't hit its stride quite yet, so Smith, a Murrells Inlet native and current resident of Marshallberg, N.C., has been taking full advantage of turkey season, which runs through April 30 on private land in Game Zones 3 and 4.
Horry, Georgetown and surrounding counties Marion, Florence and Williamsburg are all in Game Zone 4. The season in upstate Game Zones 1 and 2 runs April 1 through May 10 on private land.
For several days prior to the start of the season, Smith scouted private land areas in Florence and Horry counties and as of Thursday had hunted four of the first five days of the season.
"The majority of turkey hunters are going to hunt pretty hard anyway," said Smith. "But I think more people are out there with everything being closed. It's a great way to spend time."
Smith has a few observations as the season gets rolling.
First, he has been impressed with the number of jakes, juvenile males, he has seen both scouting and while calling in gobblers.
"I've seen a lot of jakes which is really good, and a lot of people I've talked to have seen a lot of jakes," said Smith. "The hatch is very strong."
Early in the week, the weather was cool and the turkeys were still grouped up, not an ideal situation for calling in a mature gobbler.
"From what I can gather, the birds are a little grouped up and not ready," said Smith on Wednesday. "I had seven jakes coming on me at one time (Tuesday). They all came and corralled the decoys."
By Thursday,  when a warming trend was arriving, Smith was happier with what he was saw in an Horry County field.
"The birds were right," said Smith. "I only saw about six hens, two jakes and two shooters (mature gobblers). The gobblers ran the jakes around all afternoon."
With the warm trend lasting through Sunday, Smith is upbeat about the weekend.
"It should be good," he said.
With the promising number of jakes he has observed, Smith is optimistic about the trend in the number of turkeys along the Palmetto State's coastal plain. He does have one wish, though.
"It's a really healthy population. I'd rather they be overpopulated than underpopulated," said Smith. "The quicker people get on the page of letting jakes go, we should have a good season the next few years. It would be really cool if most of these jakes make it to become gobblers. If they'll hold off on (harvesting) the jakes the next two years should be very special."
*Notes: The 2020 turkey season in South Carolina features a few new changes.
While resident hunters are allowed to harvest three gobblers per season, no more than one gobbler can be harvested per day. Also, to prevent excessive early harvest, hunters are allowed to harvest only one gobbler during the first 10 days of the season.
Turkey tags are no longer free, as in previous years. South Carolina residents are paying $5 for a set of three tags. In addition to the required hunting license and big game permit all turkey hunters, including youth, are required to have turkey  tags in possession when hunting except on designated youth days.